Ingyenes Angol online nyelvtanfolyam kezdőknek és újrakezdőknek.
+
Ingyenes tanulmány:
10 megdöbbentő ok, ami miatt nem megy az angol.
---
Welcome to My Website on My Father`s Art!
Olga Diószegi
_________________
Please send me Diószegi`s one-page writing: `The Doctor`s Boots`.
_________________
_________________
Lawrence Online Art Supplies
#1 Free Link Exchange Directory On The Web - Link Market
Have you ever tried to exchange links, swap links, or trade links? Was it hard? Use link market instead; - it is easy to use, free and very smart. It will save you hours of work.
Evert A. Robles 4-ever art Contemporary Artists List
Art Directory of Hungary - free online catalog of relevant and useful web sites. Free submit a site to Hungary web directory and link exchange
Art Directory Link Exchange
trueFresco.Org - destination Fresco Painting Society
Art and Gift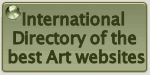 Contemporary Painters Topsite
Max Magnus` Art

Relevant Directory - free online catalog of relevant and useful web sites. Free to submit a site to web directory and link exchange. ___________________Back to Top ^